Welcome to "Friday link ups" Be sure to join ALL the link ups below !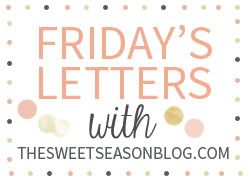 Dear Tony,
Keep your chin up, something big is about to happen I'm sure
Dear Rob,
Thanks for stopping by yesterday, and for getting me out of the house, it was well over due!
Dear Auntie,
Thanks for having me here, I really appreciate it
Dear Unemployment,
I'm rather sad that you'll be running out soon, but happy that it gives me the motivation to get a job..
Dear Main hoe,
Miss your life, happy almost birthday - sorry you'll be eating tacos!
-------
Pits
- Seeing Rob
- Getting out of the house
- Taking the train for the first time in calgary!
Peaks
- Missing home
- Missing home
- Did i mention missing home?
-----
Its also #backthatazzup day with
Whitney!
LINK BELOW DIRECTS YOU YO YOUTUBE/VEVO :)
Mike WiLL Made-It -- 23 ft. Miley Cyrus, Juicy J & Wiz Khalifa
Its also Day for of my "blogtober".
Day 4, Friday: Favorite quote (from a person, from a book, etc) and why you love it
I have so many favorite quotes, 3 of them are even tatted on me!
"you only live once, if you do it right once is enough" - Its tatted on the right side of my ribs, Ouch doesn't begin to describe the pain! - I loved this one because I try and be a yes person, to every opportunity that comes my way. It doesn't matter what it is just have fun with it, even if its just once make it the best first and last of your life
" live and learn" - It's tatted on my back between my shoulders. I love it because it reminds me no matter how hard life gets, no matter what cards I'm dealt. There's something to learn from every situation in life.
"Love with no exceptions, and Live with no regrets" - this is tatted on my left wrist in the letters. "L.W.N.E.A.L.W.N.R" - Being hurt at a young age by anyone is tough, when its your parents who do the hurting it can really have an effect on your view of life and the way you treat people. However that doesn't mean everyone is going to treat me the way my parents, living with Amy taught me unconditionally love. So I love without wanting or needing. I know life's short, and that you can make mistakes in the blink of an eye that can change you entire life, but it doesn't mean it has to make or break you, could be the best mistake you've ever made, or it could be the worst, either way it will teach you something, so you cant regret the lesson of life.
Im also Joining these hops today, go show some love and "meet" new people!