Welcome to "Friday Letters" Be sure to join the link up !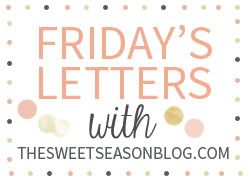 Dear Work,
I hate you, and these last next 2 weeks are bound to drag on
Dear Audri,
I hate that your upset about me wanting to move away, but just think that means we have 6 weeks to live it up 4 of those ill be unemployed!
Dear Mechelle,
I cant wait to get out to Calgary and see everyone!
Dear Owen,
Your mommy rachel is getting a little impaitent waiting for your arrival, but im cool with it just a FYI. I cant see you till aug anyway
Dear Boys,
Im going to miss you more then anything. Everytime I think about telling you my eyes tear up!
-------
Its also #backthatazzup day with
Whitney!
**It also says "at the end of your Friday posts simply add a YouTube video or a Grooveshark play button of your song choice for the day" but im NOT that smart, and media sites are banned from work where I
sit around and blog all day
help customer make there cell phones work again.**
Birthday Song - 2 Chains
*Youtube the clip of 2 broke girls where caroline meets 2 chains on the plane, I DIED! *
Im also Joining these hops today, go show some love and "meet" new people!