Welcome to "Friday Letters" Be sure to join the link up with
Ashley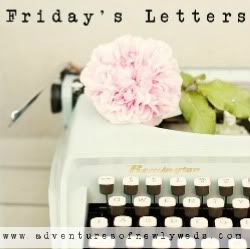 Dear Hudson & Jacob,
The more you grow and learn, the more I wish it would stop. I still remember Jacob being my 4 yr old side kick, and now he's 13. Before I know it Hudson you'll be 13!
Dear Audri,
Thanks for being my main hoe, you always know how to brighten my day. Keep you chin up everything will work out in the end. For now you'll have to drive like me ;)
Dear Farmer,
What is this that were doing exactly...
Dear Tony,
Your right txting isnt enough, you need to get a phone line so i can call ur ass mofo!
Hope everyone has a great weekend! See ya Tomorrow when I do week 2 of 30 things!