Welcome to " Friday Letters" Be sure to join the link up with
Ashley
..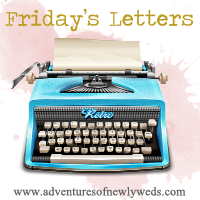 Honestly, I know I say this from time to time this time, I mean it .. HAS IT REALLY BEEN A WEEK! I feel like life flashes by so quick sometimes, blogging is really a great way to make sure everything is captured
** Funny moment from last week, before I forget ..my Nephew had a convo with my sister(his other auntie) that went something like this ...Q "I want to paint myself brown so I can look like auntie Kalleen" .. Seriously how cute is he .. the best part, hes half black to ..just really looks white, but I guarantee his dad is black, and yes ..that is RED hair on a half black kid, although in the picture it looks brown, don't be fooled my hair is brownish his is WAY lighter LOL !
Back to my letters ..
Dear Work,
You SUCK. I do NOT like the new shift I now have to work .. 5 hours on weekends, and 11hrs 3 days a week .. like who thinks of these STUPID shifts!
Dear self,
You have come a long LONG way in your 25 years. You have accomplished things you could of never accomplished if you didn't change yourself, and set out everyday to be the person you know you can be not the person you could of been!
Dear Father,
After not speaking to you since may'11, I figured you would get the hint that I cant stand the ground you walk on, the lies you make, and the way you treat your children, but on my 25th birthday I wake up to this..
"you look really great I love you Kalleen, whay are your plans for your B-Day, I can come down if you are free That should have said IF you were not. "
REALLY, I go OUT OF MY WAY to not speak with you, and you still act like you did nothing wrong! FUCK U
Dear Geoff,
I wish it didn't take good moments all the time to realize that im blessed to have you in my life. Every time I feel hated, unwanted by my father you step up. When I feel great your there, anytime I need anything your there, and for that biological or not, your still the dad I never had!
Dear Audri,
Thanks for being you, and letting me get away with screaming at you in the middle of the street because I lost my cell, I was way to intoxicated and way to rude to you, and john and I luv you!! thanks for putting up with my drunk ass
Dear Followers
Thanks for following, and commenting I love reading them all, and not gunna lie, I light up like a kid in a candy store whenever I see someone else is now following me!
Dear Lisa,
I feel like a huge bag of shit for missing your bridal shower, considering you asked me to be in your bridal party. Its been 5 days, and your still not responding to my msgs, I know I said I'm sorry already, but I am SO sorry!
Dear Thursday,
Your not going to hear this very often, so dont get to excited but .. IVE BEEN WAITING ALLLLL WEEK FOR YOU, BECAUSE TODAY STARTS OFF MY 3 DAY WEEKEND, party party party! #yeahbuddy
Hope everyone has a safely epicly awesome weekend!