Welcome to " Friday Letters" Be sure to join the link up with
Ashley
..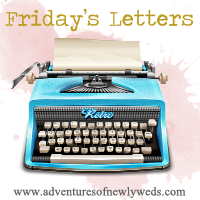 Dear jays,
Im on the train right now as i type this, praying that you guys kick ass tonight. Sorry I forgot my hat but I'm showing my pride with my blue shirt I'm wearing.
Dear Cindy and Paul,
Today I was thinking when did I even meet these people and truth is I cant even remember. You guys were always around for all the important and non important things that happen in Amy and Pocks life, every little moment I remember you guys being there. Today I learned that you two touch more lives in your short lived time then most ppl in a life time. I'm going to miss hearing "DIRRRRRRRRTY" more then you'll ever know.
Dear siblings,
I'm glad that were doing family stuff. This never use to happen. I love that were spending time together as families should.
Dear Adrian,
I'm really enjoying this train ride with you, you really are to cute for words. Auntie luvs you!!
Hope everyone has a great weekend, check back Monday to see how mine turned out. :)