Welcome back to "Friday Letters" Be sure to link up with
Ashley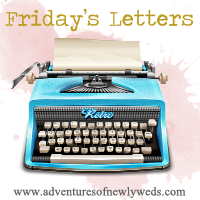 Dear Love Life,
You suck, really bad.
Dear Amy,
Thank you for inviting me to the overnight ball toury Saturday, cant wait to spend 24 hrs straight with the fam, drinking and laughing and enjoying summer time. .. Oh ya and sleeping in our vehicle,,, gangster!
Dear Jay,
Get your shit together! your making my head hurt
Dear Auntie Mechelle,
Cant wait to see you in a few weeks! Hopefully I can go back with you, be a epic ending to my summer
Dear Jays,
I will be watching you craving your attention in 3 weeks, especially you Mr. Lawrie I see you baby ;)
Hope everyone has a great weekend! check back Monday for my recap, to see what all went down!