Welcome to "Friday Letters" Be sure to join the link up with
Ashley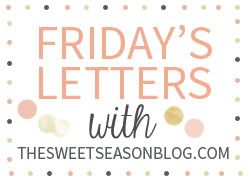 Dear John,
I couldnt even begin to tell you how excited I am to spend my vaca with u & my nephews expirencing your new town, and doing what we do! luv u bro, miss u more!
Dear Jay,
Theres a reason you here, a reason your alive. I dont have answers and i dont know why. I know your loved, I know your care for. Open your eyes, the world is yours.
Dear Sam,
Thanks for inviting me out last night. I had so much fun, although Im REALLY hungover right now. Thank you for water baby jesus
Dear Lisa,
I cant wait to go out with you tonight and get white girl wasted! miss your stinking cute face
Dear Carissa,
I may have got a little to excited when this showed up in my inbox...
Come Oct 5th, I WILL have a niece.. At least I hope.
Also Joining these link ups today, go show some love and "meet" new people!