Linking up with
Lauren
for...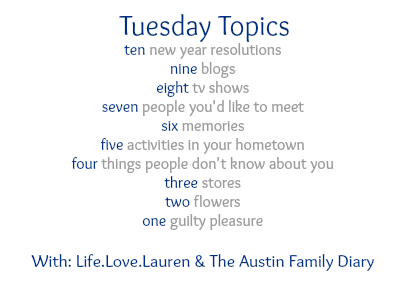 **Dont look for last weeks linkup, Im a bad blogger and didnt do it cause I couldnt come up with 10 New Year Resolutions, guys thats alot .. I have one, to keep on livin, l-i-v-i-n yes that was a dazed and confused reference ;) **
This week;
9 Blogs ..
In no partical order, because i love them all ..
Mae
Because shes brave and strong and we share the same love for god. Read about her amazing stories on adoption and stories about her rock star husband
Lauren
Because she does some of my fav link ups!
Dusty
Because I havent found a blogger whos funnier, I mean she uses words like "fuckstick cookies" and "prickasourous" that was just 1 post. She also titles her post the most hilarious titles like "Hot Tamales" which are more new blogs to follow!
Alissa
Because everytime I read one of this girls posts I cant stop laughing, and her OOTD photos, KILLER. plus this chick blogs about not only drinking beer, but she also has a sweater with a beer holder .. HOW.EPIC.
Shaylynn
Because like Alissa, shes way to funny. Some of her post are pee your self laughing, and some of them make you think wow what a strong person!
I Wore Yoga Pants
Because shes funny, down to earth gal just figuring out life!
Aunie
Because shes honest, her spirits are beautfiul and she just got married looked STUNNING!
Steph
Because shes like me a drink in the hand and good stories to talk about when the parties over!
Lacey
Because shes random, weddigns,babies,concerts,her hubby,her puppy, make up, and of corse the hard times she covers it all, while keeping things funny!
So now you know my top 9, show em some love and tell 'em who sent ya!