Welcome to "Friday Letters" Be sure to join the link up with
Ashley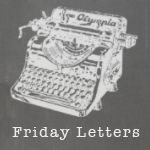 Dear Lisa,
I cant wait to see you tonight after work to get our nails done, then its your dinner rehearsal, and before we know it. YOUR WEDDING DAY. Im so excited that you asked me to share your day with you! Love you forever xo
Dear Audge,
Love stinks, ye ye
Dear Work,
I HATE you,and I plan to quit you as soon as I get settle in my new apt, and find a new job! GRRR
Dear Rob,
Happy belated birthday. Was on wed, oops!
Dear self,
Way to forget your spare battery and charger at home on the most important day! WTF
Hope everyone has a good weekend!!
Xo