Welcome to "Friday Letters" Be sure to join the link up with
Ashley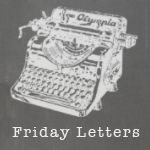 Dear Lisa,
Im sooo excitied the dresses are in.. Now to find a cheap alteration place ...even more excited for your batchorlette party!
Dear My amy & pock,
Hope u have a blast this wknd again in the falls, watch out for those blue berries
Dear Hudson,
I very much dislike grocery shopping I dislike it even more with u. Please dont make it harder then it has to be, promise we can do something fun after.
Dear roomies,
So sad to see you leave its been a crazy year. But the bestest year, not ine fight or anything. We were roommates matched in heaven.
Dear weekend.
I have you off. And I have since yesterday, can anyone say 4 day weeknds kick ass! Woot woot ,
Hope everyone has a bitchen weekend I know I will.
Catch everyone monday!