Welcome to "Friday Letters" Be sure to join the link up with
Ashley
.. and this week im also joining
Lauren
For "High 5 for Friday"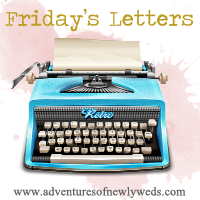 Dear Aunt Mechelle,
In 2 sleeps you SHOULD be here to see meeeee. I cant wait to be hugged and spoiled by you!! miss you soooo much.
Dear Farmer,
I've never enjoyed someones company quite the way I enojy yours, and Im beyong skyed to know you feel the same.
Dear Jordan,
I'm really REALLY hoping that you choose to move back with Aunty, - remember Jay team work, you go I go
Dear Work,
So not impressed that I only have one day off, and its saturday - the saturday I have to wake up early for my play date with Hudson..
Dear Hudson,
Im beyond sad that my shift changed at work and we will no longer be able to spend every other saturday together, but no need to worry I still have 2 days off a week, and I promise every other week on atleast 1 of those days Ill come get you for Keen & Hudson days.
Hope everyone has a good weekend, be sure to check out the other blogs that have linked up for Friday Letters & High 5 For Friday -
Be sure to come back Monday to see how my weekend turned out!