Am I ever on time with these linkups! Gsh, its this new work scheduled! Have I mentioned I how much I hate it, and how many hours I plan on job hunting over my next two days off!! Anyway, back to the link!
I'm linking up with
Lauren
and
Tiffany
For 10 Day YOU Challenge every Tuesday, for the next 10 weeks, and you should too!!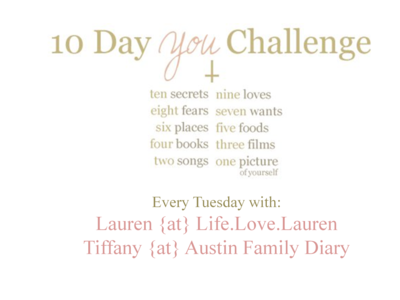 This week starts off with 10 secrets about yourself!
* I think I want to be a journalist
* I have baby fever
* I actually like my job, it challenges me
* Even thought I try not to I find my self telling people white lies just to entertain them, or make them feel better
* Blogging is an obsession of mine (well that's not really a secret, I'm just not sure how many people are really aware of it)
* Before the end of the year, Ill prob end up living in Calgary.
* I'm not ready to forgive my dad, but I still want to call him - but I wont, deadbeat
* I have 2 middle names, Theresa Kathleen most ppl only refer to Theresa, Kathleeen is actually my confirmation name
* I cant see my first born having any other name then one of my best friends names Ry
* I'm not a very secretive person, it was rather hard coming up with 10 secrets.