Welcome back to " Friday Letters" Has it really already been a week, that flew past!
Be sure to link up with
Ashley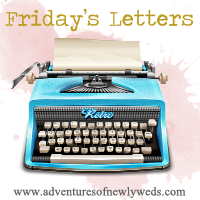 Dear Geoff,
I really don't think I say it quite enough how much I really truly appreciate everything you do big and small.
Dear John,
I don't know how were going to make it without seeing each other for 3 weeks! eek, long time going to miss you so much big brother! might have to come up for a weekend in between are 3 weeks apart!
Dear Self,
Good job on getting your ass out of bed this morning and going for a walk,didn't that make you feel so amazing!
Dear Work,
Your system still sucks, fix it PLS! However the ice cream, hamburger chips & pop were much appreciated on the day that I didn't want to work the most!
Also this week im doing to "Restless Blog Hop" A link up from
Christa