Welcome to "Friday Letters" Be sure to join the link up with
Ashley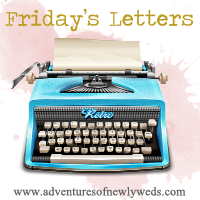 Dear Debbie,
Your going to be absolutely stunning tomorrow, and I cant wait to see you all dolled up on ur big day
Dear Steve,
Thank you thank you thank you x30 for leaving Debbie and letting her find the love of her life, and letting yourself find the real love of your life!
Dear Farmer,
Your making the situation a little harder then it really has to be..
Dear Hudson,
I almost shit myself when you said 2.5 weeks still school starts, OH MY GOD! talk about bittersweet - my wittle bub finally gets to start school, but at the same time...my wittle bub is starting school?!?! - what, how?!
Hope everyone has a good weekend, mines going to busy busy busy! wedding number 1 is Saturday,
cheers