Linking up with
" Rockin Momma"
For 'I love me Mondays'
*I'm well aware its tuesday, im a slow blogger so what :p*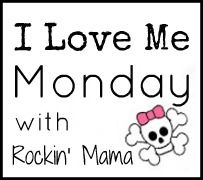 Join the link up, and meet new bloggers!
How it works..
"There will be 3 questions listed for you to answer and submit with your self portrait
1. What do people compliment you on the most?
My weight loss
2. Your greatest accomplishment?
losing 81 pounds to date
3. Do you consider yourself to have an old or young soul?
Young, wild, and free baby!