Welcome back to "Friday Letters" Be sure to link up with
Ashley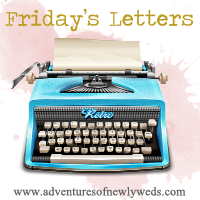 Dear Audri,
Thanks for twisting my arm into playing hookey to go to the beach *let's go to the beach, beach let's go get it on*
Dear Jays,
Only 2 more weeks till you kick some tiger ass! go jays go
Dear Farmer,
You could quite possibly be the funniest person, you make me laugh like no other
Dear Hudson,
Tomorrows the big day. Hudson and Keen day, wonder what kind of shananagians we will get into, cant wait miss you sooooo much!
Hope every one has a good weekend! Check back Monday to see how mine went.